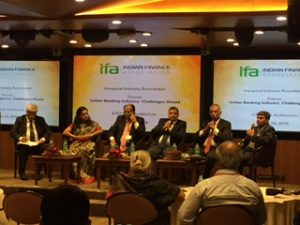 IIM Calcutta along with IIM Ahmedabad and IIM Bangalore, have recently set up a registered society in the name Indian Finance Association (IFA). One of the objectives of the Association is to provide a discussion platform (roundtable) to the industry so that industry can debate on some thorny issues/challenges.
The first round table is scheduled on 24 June 2016 at ICICI Tower, BKC, Mumbai. 
Theme:  Indian Banking Industry: Challenges Ahead
Time: 4 -6pm
Speakers:
Satish Pillai, Managing Director and CEO, CIBIL
Mr. Pillai in the Managing Director and CEO of CIBIL and is responsible for the management, growth and business strategy of CIBIL. Mr. Pillai brings over 15 years of rich experience in banking, risk management and usage of analytics and decisioning services to enhance consumer access and experience.  Prior to July 2015, Mr. Pillai was the Chief Operating Officer for CIBIL and was responsible for bureau operations, new product development as well as the regional president of TransUnion's business in India.  Mr. Pillai came to TransUnion from American Express, where he was a director of collection strategy and a manager in the small business risk management area, both part of the U.S. Risk Management division. He began his career in the banking industry with Banco Popular North America and then with Wachovia Bankcard Services. Mr. Pillai received a Master's degree in economics from the University of Florida.
Devendra Prasad, Chief General Manager (Stressed Assets Management), State Bank of India
Mr. Prasad is the Chief General Manager (CGM) in the Stressed Assets Management department of State Bank of India from July 2015. Prior to this, he was working with State Bank of India during 1998 – 2015 in various capacities. He has a master degree and he started his career as a probationary officer in State Bank of India in 1980.
Prachi Mishra, Reserve Bank of India
Dr. Prachi Mishra is Specialist Adviser and Head of the Strategic Research Unit at the Reserve Bank of India. Prior to that she was Senior Economist in the Office of Chief Economic Advisor in the Ministry of Finance, and at the Prime Minister's Economic Advisory Council in the Government of India; and Senior Economist at the International Monetary Fund. At the IMF, she has worked for the Monetary and Capital Markets, Research, Western Hemisphere, and Fiscal Affairs departments, and in office of the First Deputy Managing Director. She received a PhD in Economics from Columbia University in 2004, and a Masters from the Delhi School of Economics in 1999.
Shilpa Kumar, Group Executive and Head, Global Markets Group and Proprietary Trading Group, ICICI Bank
Shilpa Kumar is Group Executive at ICICI Bank Ltd. and heads the Global Markets Group and Proprietary Trading Group. Shilpa is a management graduate from IIM Calcutta and started her career with ICICI in 1989, in its Treasury. She worked briefly in the strategy team before moving on to the Bank's corporate finance and project finance functions. She is a director on the Board of CCIL (Clearing Corp. of India Ltd.), ICICI Securities Primary Dealership, ICICI Securities and ICICI Home Finance Ltd. She also served as the Chairperson on FIMMDA (Fixed Income Money Market and Derivatives Association of India) Board.
Madhu Terdal, Group CFO, GMR Group
Mr. Madhva Bhimacharya Terdal joined GMR Group in 1999 and has held various key positions in the Group. He is currently the Group Chief Financial officer. He is responsible for the complete finance functions of the GMR Group. Prior to joining GMR Group, Mr. Madhva Terdal has worked with Canara Bank, Canara Bank Financial Services Limited, Vysya Bank Limited, Bangalore. He has an overall experience of 42 years with a total of 26 years in Commercial Banking, Investment Banking, Portfolio Management and Structured Finance. He is a Post-Graduate in Economics from Karnataka University, CAIIB from Indian Institute of Bankers and DBM from Indian Institute of Bankers.
Moderator:
Partha Ray, Professor of Economics, IIM Calcutta
Partha Ray is currently Professor of Economics at the Indian Institute of Management, Calcutta, India. During 2007 – 2011 he was Adviser to the Executive Director (India) at the International Monetary Fund, Washington D.C. Earlier he was working in the specialist cadre of Economists in Reserve Bank of India's Economic Research Department during 1989 – 2006 in various capacities; his last position was Director, Department of Economic and Policy Research, RBI. He has written on issues relating to monetary policy, banking and financial sector. His recent publications include: Financial and Fiscal Policies: Crises and New Reality (jointly with Y V Reddy and Narayan Valluri; Oxford University Press, 2015), and Monetary Policy (Oxford University Press, 2013).
IFA invite you to attend its first inaugural industry roundtable discussion on June 24, 2016 Friday. Registration for the event is free but we would request you to register to make appropriate logistic arrangements. For registration please drop a mail at asstmgr_finlab@iimcal.ac.in.