CALL FOR PAPERS
INDIA FINANCE CONFERENCE (IFC) 2019
DECEMBER 19-21, 2019
VENUE: INDIAN INSTITUTE OF MANAGEMENT AHMEDABAD, INDIA
FULL PAPER SUBMISSION DEADLINE: 18 AUGUST, 2019
The India Finance Conference 2019 (IFC 2019), the annual event of the Indian Finance Association (IFA), invites papers for its ninth edition to be held at the Indian Institute of Management Ahmedabad, Ahmedabad from 19-21 December, 2019.
Academics, researchers, doctoral students, and practitioners are invited and encouraged to submit research papers in all areas of finance and accounting.
CONFERENCE THEMES:
Theoretical and empirical asset pricing
Corporate finance, capital structure and dividend policy
Asset allocation and investment management
Financial crises, systemic risk and macro-finance
Quality of financial reporting and adoption of IFRS
Corporate governance, executive compensation and ownership structure
Computational finance and financial econometrics
Financial risk analytics and management
Market microstructure and algorithmic trading
Financial policy choice, institutions and regulation
Financial literacy and financial education
Financial Analytics
ABOUT THE INSTITUTES
Indian Institute of Management Ahmedabad (IIMA) has evolved from being India's premier management institute to a notable international school of management in just four decades. It all started with Dr. Vikram Sarabhai and a few spirited industrialists realizing that agriculture, education, health, transportation, population control, energy and public administration were vital elements in a growing society, and that it was necessary to efficiently manage these industries. "The result was the creation of the Indian Institute of Management, Ahmedabad in 1961 as an autonomous body with the active collaboration of the Government of India, Government of Gujarat and the industrial sectors."
It was evident that to have a vision was not enough. Effective governance and quality education were seen as critical aspects. From the very start the founders introduced the concept of faculty governance: all members of the faculty play an important role in administering the diverse academic and non-academic activities of the Institute. The empowerment of the faculty has been the propelling force behind the high quality of learning experience at IIMA. The Institute had initial collaboration with Harvard Business School. This collaboration greatly influenced the Institute's approach to education. Gradually, it emerged as a confluence of the best of Eastern and Western values.
For more information visit http://www.iima.ac.in/
Established in 1973, Indian Institute of Management Bangalore (IIMB) today offers a range of post-graduate and doctoral level courses as well as executive education programs. IIMB has been recognized as the No. 1 Business School in Central Asia by Eduniversal, a French Consultancy Group, for the last three consecutive years. IIMB has also obtained the European Quality Improvement System (EQUIS) accreditation awarded by the European Foundation for Management Education (EFMD). IIMB Centres of Excellence are engaged in adding value to their communities in the areas of Public Policy, Capital Markets & Financial Management, Corporate Governance, Entrepreneurship, Public Policy, Software and Supply Chain Management, to name a few. With a faculty body from amongst the best universities worldwide, IIMB is fast emerging as a leader in the area of management research, education and consulting.
For more information visit  www.iimb.ac.in.
Indian Institute of Management Calcutta, abbreviated as IIM Calcutta or IIMC, is a public business school located in Kolkata (Calcutta), West Bengal, India. It was the first Indian Institute of Management to be established. It is consistently ranked as one of the best business schools in India and the Asia-Pacific region. Established in 1961, IIM Calcutta is a fully autonomous institution and offers several postgraduate and doctoral programmes, in management, as well as a bouquet of executive education programmes. In addition to its main academic programmes, IIM-C is also engaged in research, consultancy, seminars, academic conferences and research publications.
IIM Calcutta's programs are accredited by AACSB, AMBA and EQUIS: it is the only Indian b-school with these three global accreditations. It is the only Indian business school that is a member of the Global Alliance in Management Education (CEMS). IIM-C is especially renowned for its finance-related courses, and is widely considered to be one of the best business schools in the world for finance.
IIM Calcutta has set up a state-of-the-art Financial Research and Trading Lab (the Finance Lab) in November 2008. The Finance Lab at IIM Calcutta gives an opportunity to students and faculty members to test financial models with "live" information from the major markets of the world like India's National Stock Exchange, Multi Commodity Exchange, National Commodity and Derivatives Exchange, Bombay Stock Exchange and Bloomberg. The lab is the only one of its kind in India, and has advanced industry-standard equipment and facilities including 78 trading terminals, trading simulators and Bloomberg Terminals.
The Lab resources can be used to develop, test trading algorithms, identify market abuse, executive education and in organising international and national conferences on finance. The laboratory gives students a hands-on experience in financial market data analysis and modelling, and also helps in advanced applied research in financial markets. Information on the Finance Lab is available at http://financelab.iimcal.ac.in/.
For more information visit www.iimcal.ac.in.
SUBMISSION DEADLINE:
The IFC 2019 invites full papers for conference presentations, CRISIL Doctoral Symposium and CFA Investment Management sessions. The deadline for submitting papers under all three categories through the conference website is 18 August, 2019.
Only full paper submissions would be considered.
SUBMISSION GUIDELINE:
PDF submissions are preferred. The document must be in double space format using 12 point fontsize. The submission should contain: The title, name(s) of the author(s), affiliation(s), JEL classification codes, and e-mail address of corresponding author. For paper submission, please visit the conference page http://indiafa.org/event/indiafinance-conference-ifc-2019/?about=submit-paper
EMERALD BEST PAPER:
There will be three "Emerald – IFC 2019 Best Paper" awards given at the conference. The papers will be chosen by a panel of experts from the papers presented (any area) at the conference. Cash awards USD 1000.
CRISIL DOCTORAL SYMPOSIUM:
The CRISIL Doctoral Symposium provides a platform to the budding researchers to present their contemporary research in the area of finance, accounting, risk and analytics. The top three papers will be rewarded with a certificate and cash prize. Doctoral students who wish to submit their full papers under this category should mention 'CRISIL' on top of title page of the paper. Cash awards USD 1000.
CFA INVESTMENT MANAGEMENT:
The CFA Investment Management provides a platform to the participants to present their contemporary research in the area of Investments and Asset Pricing. CFA Institute India has agreed to sponsor up to three "CFA Institute Investment Management Awards". Each award constituted a certificate and a cash award. Participants who wish to submit their full papers under this category should mention 'CFA Investment Management' on top of title page of the paper. Cash awards USD 1500.
KEYNOTE SPEAKER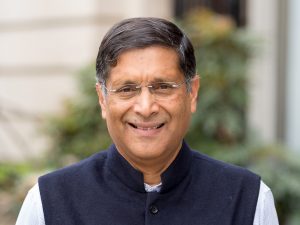 Arvind Subramanian is an Indian economist and the former Chief Economic Adviser to the Government of India. Currently, he  is  senior fellow at the Peterson Institute for International Economics (PIIE) and a visiting lecturer in public policy at Harvard University's Kennedy School of Government. He rejoined the Institute in August 2018, following his service as the chief economic advisor to the government of India since October 2014. He joined PIIE in 2007 and later in 2013 was designated as the Dennis Weatherstone Senior Fellow at the Institute. He has also served as senior fellow at the Center for Global Development.
Before joining PIIE, Subramanian was the assistant director in the Research Department of the International Monetary Fund. He served at the General Agreement on Tariffs and Trade (GATT) from 1988 to 1992 during the Uruguay Round of trade negotiations and previously taught at Harvard University's Kennedy School of Government and Johns Hopkins' School for Advanced International Studies.
He obtained his undergraduate degree from St. Stephens College, his MBA from the Indian Institute of Management at Ahmedabad, and his M.Phil and D.Phil from the University of Oxford.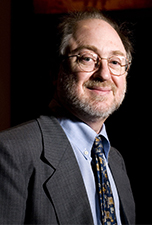 Sheridan Titman is a professor of finance at the University of Texas at Austin, where he holds the McAllister Centennial Chair in Financial Services at the McCombs School of Business. Prior to joining the faculty at the University of Texas, Professor Titman was a Professor at UCLA, the Hong Kong University of Science and Technology and Boston College and spent the 1988-89 academic year in Washington D.C. as the special assistant to the Assistant Secretary of the Treasury for Economic Policy.
Professor Titman's academic publications include both theoretical and empirical articles on Asset Pricing, Corporate Finance, Real Estate and Energy Finance. He has published over 50 articles in the top professional journals and three books, which are all well-cited by academics and industry professionals.
Professor Titman has served on the editorial boards of leading academic journals, including the Journal of Finance and the Review of Financial Studies, served as an editor of the Review of Financial Studies and was the founding editor of the International Review of Finance.  He has been a board member of the Asian Finance Association, the Financial Management Association, the Western Finance Association, and the American Finance Association and has served as the President of both the Western Finance Association and the American Finance Association.  He is currently the Vice President of the American Real Estate and Urban Economics Association.
Professor Titman holds a B.S from the University of Colorado and an M.S. and Ph.D. from Carnegie Mellon University.
PRE – CONFERENCE TUTORIALS
Tutorial sessions will be conducted on 18 December, 2019 by eminent academicians from India and abroad. Tutorials will be particularly useful for research scholars and academicians.
The tutorial aims to deliberate on the evolution, structure, market mechanism, participants and pricing of the debt market products in India including interest rate derivatives. The tutorial will also cover the issues and steps necessary to further develop the Indian debt market especially the corporate bond market.
REGISTRATION
In order to register for the conference and pay the fees online you have to visit https://web.iima.ac.in/web/100. The registration fee is:
| | |
| --- | --- |
| | |
| Indian academics | INR 6000 |
| | |
| Overseas academics | INR 15050 (USD 215@ INR 70 per USD) |
| | |
| Industry Participants | INR 16000 |
| | |
| Pre-conference tutorial | INR 2000 |
The deadline to register for the conference is November 30, 2019.
The registration fee for the event covers attendance, program kit, lunches, conference dinner and light refreshments. Accommodation is not included.
In case of cancellation of registration up to 15 working days before the event, a refund of the registration fee net of 10% processing charges shall be made. No refunds can be made for cancellations less than 15 working days prior to the event. All refunds will be processed after the conclusion of the conference.
FURTHER INFORMATION:
Contact the Conference secretariat: asstmgr_finlab@iimcal.ac.in
CONFERENCE WEBSITE